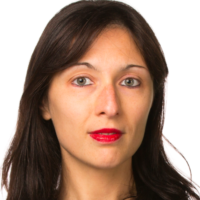 Irene Monasterolo
Vienna University
Irene Monasterolo, PhD, is an Assistant Professor of Climate Economics and Finance at the Institute for Ecological Economics, Vienna University of Economics and Business, and a visiting research fellow at Boston University, USA. Irene holds a Ph.D. in Agri-food Economics and Statistics from the University of Bologna, and two post-docs in Cambridge (UK) and Boston (USA).
Irene's research focuses on i) climate stress-test to price climate transition risk scenarios into countries' competitiveness, risk and financial stability, ii) macroecological Stock-Flow Consistent models of the transition to a sustainable bioeconomy, iii) univariate and multivariate financial econometrics models to assess market's pricing of carbon stranded assets, iv) stakeholders' knowledge co-production to identify barriers and opportunities to scaling-up sustainable finance.
Irene has extensive experience in developing policy-relevant academic research on how to align the financial system to the Sustainable Development Goals and the Paris Agreement. Irene has contributed to develop the first climate stress-test methodology applied to development banks and central banks' portfolios that introduces climate into financial risk metrics (CLIMAFIN-tool), and the EIRIN Stock-Flow Consistent behavioural model to assess financial and distributive effects of green fiscal, monetary policies and green bonds. Her research has been published on top-ranked academic journals, such as Nature Climate Change and Climatic Change.
In addition, Irene has been working as a consultant for major development banks (e.g. World Bank, European Investment Bank, Inter-American Development Bank) on climate change mitigation and adaptation, and sustainable agriculture in the Caribbean, the Wester Balkans and Eastern Europe.
She leads the Research Area "Environment-Economy Interactions" of the European Association for Evolutionary Political Economy (EAEPE), of which she is also a council member since 2018.
Irene is currently involved as a work-package leader in the Austrian Climate Research Program's RiskFinPorto "Analysis of Carbon Risks in Financial Markets and Austrian Portfolios", in the H2020 project PERCEIVE "Perception and evaluation of Regional and Cohesion Policies by Europeans and Identification with the values of Europe", and the Austrian Research Promotion Agency funded MOBALANCE "Sustainable mobility for the Future" project. In addition, she has recently been awarded the Dr. Maria Schaumeyer Habilitationstipendium funded by OeNB.
Irene has been invited as keynote and discussant in several high-level academic and policy events on green finance and sustainable development, e.g. the R20 Austrian World Summit, the SUERF-WU-OENB conference "Green finance, regulation and monetary policy", the G20 Task Force event on "Scaling Development Finance for the Sustainable Development Goals and the Paris Agreement", and to the COP22 and COP23 Climate Change conferences.
Role
She works in connection with the Societal Transition for a Sustainable Economy focus area.