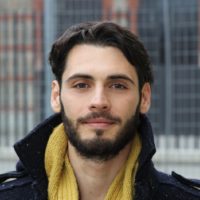 Tiziano Distefano
Post-Doc
Background 
Tiziano Distefano is a Post Doc Researcher at the Department of Economics and Management of the University of Pisa. In 2015 he obtained his PhD in Economics, Markets and Institutions at IMT Lucca  – Institute for Advances Studies of Lucca.
He has been a Visiting research scholar at the Cambridge Centre for Climate Change Mitigation Research.
He has been involved in several EU project, such as: "ViWan" focused on the sustainability of the global virtual-water network, EU-ERC "Coping with water scarcity in a globalized world", and the "EUROGREEN Project" which was aimed at analysing the macroeconomic impacts of social and environmental policies in France.
Research interests
His main research interests involve: Ecological Sustainability and
Macroeconomics, Management of Natural Resources (Water), International
Trade, Network Theory, Input-Output Analysis, Evolutionary Game Theory,
and Epistemological Foundation of Ecological Economics.
Role
He is part of the Societal Transition for a Sustainable Economy.