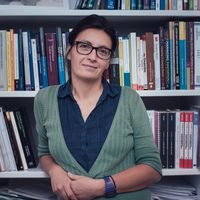 Elisa Giuliani
Director
Background
Elisa Giuliani is a Full Professor of Management at the Department of Economics and Management of the University of Pisa. She holds a PhD in Science and Technology Policy from the University of Sussex (2005) and a PhD in Management from the University of Pisa (2002).
Research interests
Elisa's research interests are at the interface of international business, economic geography and development studies. She has recently become interested in the relationship between international business and human rights, and on socio-environmental compliance of standards in global value chains.
Her work has been published in several international journals, including the Journal of Business Ethics, Journal of Economic Geography, Journal of World Business, Regional Studies, Management and Organization Review, Research Policy and World Development. She is also Editor for Research Policy, in the Editorial Board of Economic Geography, Journal of Economic Geography and the Business and Human Rights Journal.
Role 
Director of REMARC.