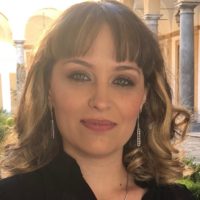 Verdiana Morreale
PhD Student
Background
Verdiana Morreale is a PhD Candidate from the School of Advanced Studies of Pavia in Sustainable Development and Climate Change doctoral programme. She graduated in Law at the University of Palermo and holds a Master of Art in "Human Rights and Conflict Management" from Scuola Superiore Sant'Anna, Pisa.
She has been Erasmus Student at Universitat de Girona (Catalunya, Spain) from September 2015 to June 2016.
Recently, she has worked as Assistant Project Manager for Italian NGOs and SMEs, focusing on the drafting and implementation of Italian and EU founded projects.
Research Interests
Her research focuses on business related human rights violations, sustainable development and climate change. Grounded in the broader area of juridical, economic and social studies, her research explores the extent and modalities under which business enterprises contribute to the respect of human rights, implementing new sustainable models to address climate change and its impacts.
Role 
Verdiana is part of the International Business and Human Rights focus area.