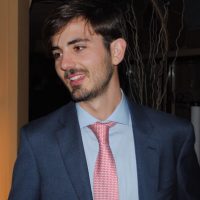 Gianluca Biggi
Phd student
Background 
Gianluca Biggi holds a post-graduate degree in Professional Business Consultancy and a bachelor degree in Management both from the University of Pisa
He is currently a first-year PhD student in Management at the Department of Economics & Management of the University of Pisa.
Research interests
Gianluca is interested in understanding the relationship between sustainability (understood as development that meets the needs of the present, without compromising the ability of future generations to meet their own needs) and innovation. In particular Gianluca's research interests are related to responsible research and innovation, irresponsible (or harmful) innovation and geography of innovation. He investigates these questions using both quantitative and qualitative analysis.
He was awarded the University of Pisa 2017 PhD+ programme: Research valorisation, Innovation and Entrepreneurial mind-set. Thanks to this award he was able to spend a period as visiting student at the Technology Entrepreneurship Institute in Silicon Valley (U.S.) in July 2017.
Role 
Gianluca is currently conducting his PhD thesis in the area of Responsible Innovation.