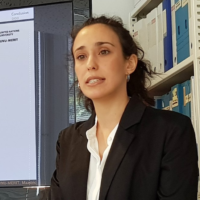 Giulia Rossello
Assistant Professor
Background
Giulia Rossello is a researcher in economics and management. She holds a Ph.D. in Economics from the School of Business and Economics of Maastricht University (Netherlands), where she worked as a research fellow at the United Nations University – Maastricht Economic and Social Research Institute on Innovation and Technology. In 2023 she joined the Department of Economics and Management of the University of Pisa as an Assistant Professor (RTDa).
She has been a visiting researcher at the Centre for Research on Evaluation of Science and Technology at Stellenbosch University (South Africa), and a teaching assistant of Data Science, Econometrics, and Network Economics at the School of Business and Economics at Maastricht University (Netherlands).
Research interests
Her main research interests are at the intersection of economics of knowledge, science of science, and sociology. Her research combines computer science techniques, experimental methods, and econometric techniques with network analysis and theory to uncover how knowledge ecosystems, workers' behaviour, and new technologies interplay.
She has published her works in international journals including Scientometrics, Research in Higher Education, Journal of Productivity Analysis, and Disabilities.
Role
Within the REMARC team Rossello is now contributing to the Horizon project REBALANCE which examines how corporate (mis-)behaviour impacts democracy and individual attitudes toward the electoral system.